One of my friends is training for a ½ Ironman (!) this summer – that is a 1.2 mile swim, a 56 mile bike ride, and a half-marathon.  Oh, and she has a 4 year old and 1 year old!  (Can we say rock star??)
 She has always been into working out – a LOT.  She works out 5-6 days a week, but she also eats well and takes care of herself.  She's always been involved in sports and really enjoys working out.
Recently she got some flack because she was posting her workouts on Facebook (through an app called "OnTri"), and people were commenting that she was exercise obsessed.  She felt like people thought she was bragging about her workouts.  So she posted yesterday that she was taking it down, and got several responses from people saying that they actually thought her updates (showing all her workouts) were motivating.
 Now, I can see this going both ways. 
 I will admit there were some days when I'd see her updates, that she had swam a mile and ran 4 miles, and it motivated me to get to the gym and sweat it out.  On the other hand, sometimes it did make me feel guilty. I know this is all my problem – it goes back to how I compare myself to others too often.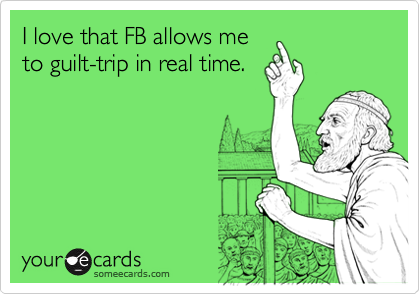 (Source) 
How would you react to seeing someone's intense workouts posted everyday?  Would it motivate you?  Make you feel a little guilty?
Filed under: Uncategorized