Yep, not snowed in….;-)
You'll find NO complaints from me.  Just a quick post since I have to get back to hanging out with these guys:
(Your idea of the perfect first date)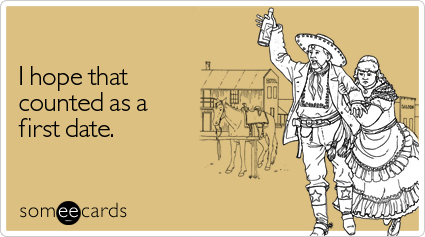 For me, it isn't so much of what you do, but how easy and fun it is to be with the other person.  I've been on TOO many first dates where there is just awkward silence.  I'm not an awkward silence kinda girl. 
I will say that although the dinner date idea is nice (I mean….who doesn't love a free meal?), but the best first dates I've been on are where we've done something unique: gone to a park, gone on a run, went on a helicopter ride and had Seal sing for us (Oh wait…..that wasn't me).  I love doing something unconventional and preferable active – I think it brings about better conversation!
What about you?  What's your idea of a perfect first date?
And Happy Groundhog's Day!  Let's hope Phil is right.
Filed under: Uncategorized | 11 Comments »